Backbone Trail
Exploring Southern California's Santa Monica Mountains between Will Rogers State Park and Point Mugu
---
Trail Details
| | |
| --- | --- |
| Location: | California, United States |
| Length: | 67.2 miles (108.1 km) |
| Type: | Point-to-Point |
| Duration: | 4-8 days |
| Difficulty: | Moderate |
| Elev. change: | 20,970 ft (6,390 m) |
| Highest point: | Sandstone Peak, 3,111 ft (948 m) |
| Season: | September through May |
| Permits: | Free |
---
Trail Summary
The Backbone Trail takes you along the spine of the Santa Monica Mountains, among sandstone and volcanic rock formations, and immerses you into the rare Mediterranean climate of Southern California. Views of the Pacific Ocean, Channel Islands, inland mountain ranges, and the Los Angeles Basin keep your eyes fixed outward while wildflowers, fossils, and various plant communities occupy your senses on the ground. The combination of climate, topography, and diverse biology make the Santa Monica Mountains a one-of-a-kind destination and a unique backpacking opportunity.
---
Recommended Planning Guide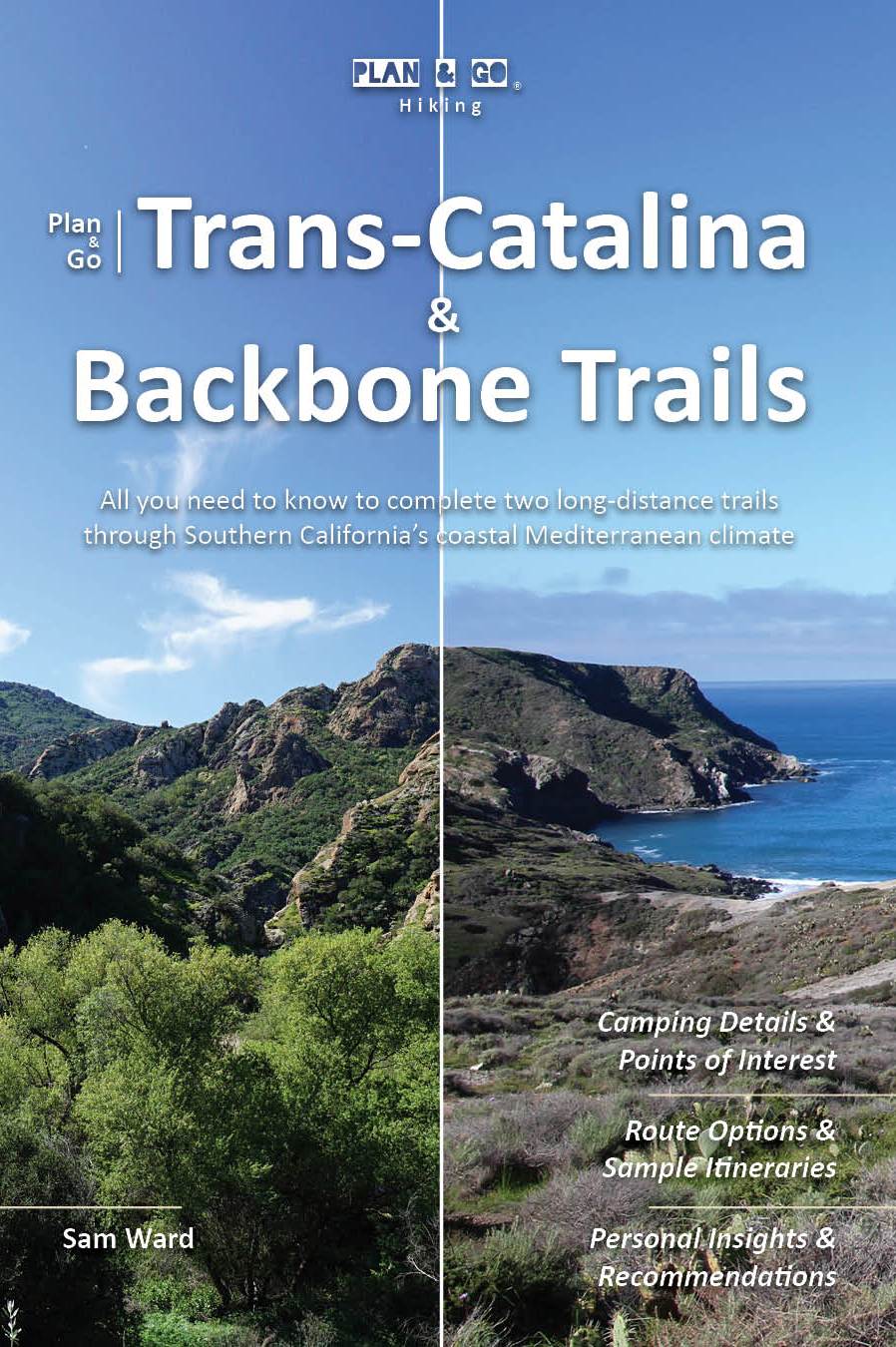 Plan & Go | Trans-Catalina & Backbone Trails is the definitive guide to hiking two of Southern California's most remarkable backcountry trails. In a clear and concise manner, the book illustrates the highlights and unique characteristics of both the Trans-Catalina Trail and the Backbone Trail. To save you time and effort with your own preparations, the guide offers practical advice on athletic training, which food to pack and in what quantities, how to select appropriate gear, and various other essentials for each trail.
The book further includes relevant overview maps of the trails and comprehensive campsite listings to help you create itineraries that best suits your personal preferences. The wealth of facts and figures is topped off with two candid and inspiring accounts of the author's back-to-back journeys across Santa Catalina Island and the Santa Monica Mountains.
Get the Book
---
Maps
National Geographic's Trails Illustrated map of the Santa Monica Mountains National Recreation Area details the largest urban park in the United States from Point Mugu to Will Rogers State Beach. The features detailed topography with shaded relief, elevations, accurate road network, and clearly defined, color-coded boundaries for parks, public lands, and preserves. With miles of mapped trails including the popular Backbone Trail, this map can guide you off the beaten path and back again whether you're traveling by foot, bike, or horse. Printed on "Backcountry Tough" waterproof, tear-resistant paper.
Get the Map
---
Mobile Apps
The National Park Service has created the Santa Monica Mountains Flower Finder app to identify wildflowers based on color, size, season, and other identifying factors: Download App for iOS | Download App for Android
---
Helpful Links