John Muir Trail
Yosemite Valley to Whitney Portal through California's High Sierra
---
Trail Details
| | |
| --- | --- |
| Location: | California, United States |
| Length: | 211 mi (340 km) |
| Type: | Point-to-Point |
| Duration: | 14-21 days |
| Difficulty: | Moderate to Strenuous |
| Elev. change: | 91,000 ft (27,740 m) |
| Highest point: | Mount Whitney, 14,505 ft (4,421 m) |
| Season: | July to September |
| Permits: | Wilderness permits (reservation, lottery) |
---
Trail Summary
The John Muir Trail (JMT) is a 211-mile trail through California's High Sierra Mountains from Yosemite Valley to Mt. Whitney, the highest point of the contiguous US. The JMT offers spectacular sceneries of canyons, cliffs, forests, lakes, rivers, peaks and passes of over 14,000ft. It is one of the most renowned and widely recognized as one of the greatest trails in the world.
---
Recommended Planning Guide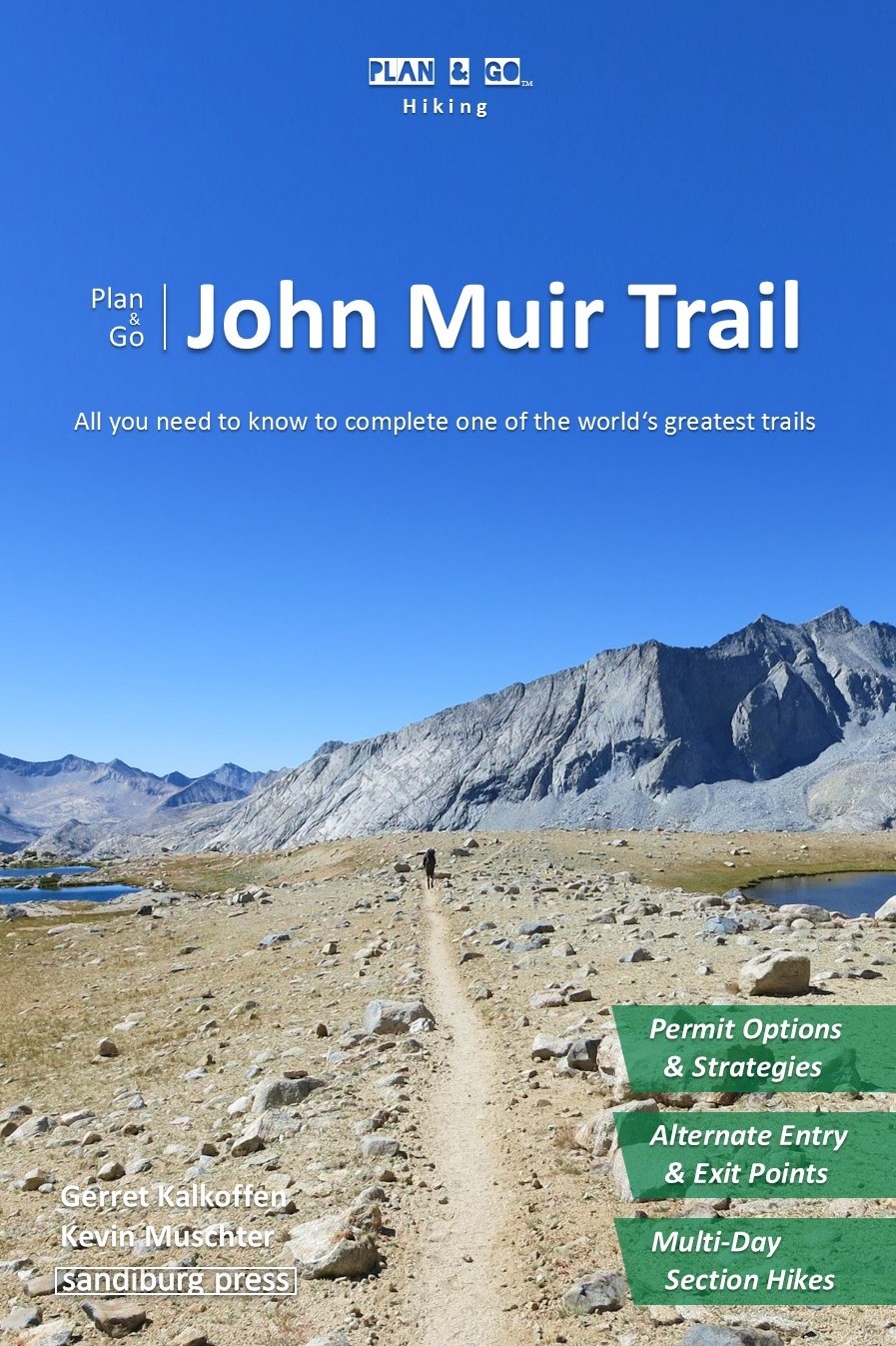 ∼ All You Need to Know about the John Muir Trail ∼
Plan & Go | John Muir Trail is a 192-page guide on how to prepare for the JMT. The book compiles all relevant information regarding permits, travel, resupply, gear, food, trail and weather conditions. Furthermore, special planning tools ease preparation, some of which can be found here. The motivating chronicles of the author's 15-day trek and personal experiences among the breathtakingly beautiful peaks complete the book.
Get the Book
---
Maps
Tom Harrison's Map-Pack is a great companion for the JMT hiker. Shaded Relief Topo Maps with well-marked trails will take hikers from Yosemite Valley to Mount Whitney. The following maps are included: Whitney Portal, Symmes Creek, Onion Valley, Oak Creek, Taboose Creek, North and South Lakes, Vermilion, Bear Creek, Florence Lake, Pine Creek, Mono Pass, McGee Creek, Devils Postpile, Mammoth Lakes, Agnew Meadows, Silver Lake, Tuolomne Meadows, and finally the Yosemite Valley. This map-pack is GPS compatible and features the complete UTM Grid.
Get the Map-Pack
---
Mobile Apps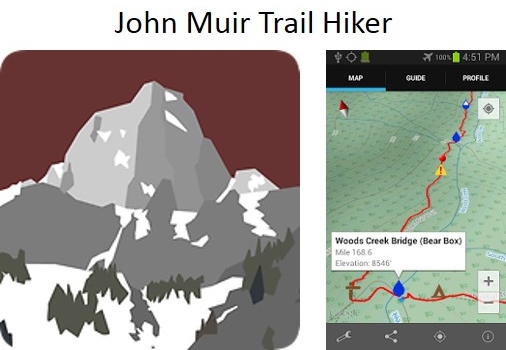 The JMT Hiker App covers the 211-mile trail from Happy Isles in Yosemite National Park to the summit of Mt. Whitney. It is simple, easy-to-use and contains information on every point of interest along the way, including photos and descriptions. The elevation profile shows trail distance vs. elevation and plots your current location on the trail. No cell signal required, you can download all the map information before you leave home.
Get the Android App
Get the iOS App
---
Helpful Links
Permits
Public Transportation
Rental Cars