Plan & Go | High Sierra Trail
All you need to know to complete the Sierra Nevada's best kept secret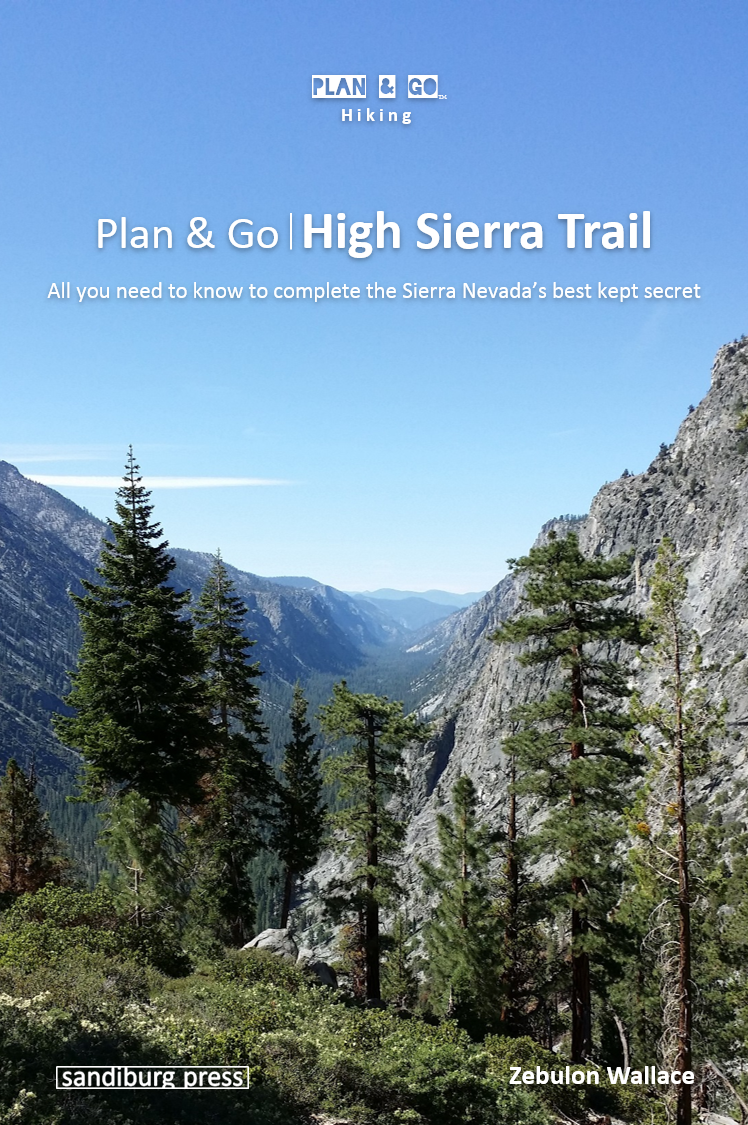 Author: Zebulon Wallace
Publisher: Sandiburg Press
Series: Plan & Go Hiking
ISBN: 978-1-943-12602-6
Pages: 166
Retail price: $15.95
Buy on Amazon
Description
Plan & Go | High Sierra Trail is the ultimate guide to hiking the 72-mile route from the Giant Forest in Sequoia National Park to Whitney Portal at the base of Mt. Whitney. In a clear and concise manner, the book describes the highlights and unique characteristics of the 'HST' and provides all the essential planning information to save you time and effort with your own preparations. Supported by step-by-step instructions and first-hand recommendations, you will be well-equipped and feel more confident about completing this memorable adventure in the California Sierra Nevada.
The book provides answers to the following questions (and more):
How do I prepare for the HST?
How many days will it take me?
When is the best time to go?
How do I obtain a permit?
What kind of gear works best?
How do I get there and back?
What are my camping options?
In addition, Plan & Go | High Sierra Trail offers practical advice on athletic training, which food to pack and in what quantities, how to select appropriate gear, and various other essentials for the trail. The book further includes a detailed elevation profile of the trail along with a comprehensive campsite listing to help you create an itinerary that best suits your personal preferences. The wealth of facts and figures is topped off with the entertaining and motivating account of the author's own 5-day HST journey.
About the Author
California native and son of a botanist and a biologist/author, Zebulon Wallace was brought up with an appreciation for nature, an enthusiasm for exploring the world outside, and a well-honed ability to sit on the smoke side of campfires for hours at a time. He was camping and riding his parent's shoulders on hikes through the Sierra Nevada before he could walk.
Zebulon and his family have camped at Rock Creek (near Bishop, California) every year since he was a child – a tradition that they continue to this day. These trips made him a more capable and confident hiker and developed his interest in exploring longer and more challenging trails. Some of his most memorable treks are Mt. Kilimanjaro (Tanzania, Africa), High Sierra Trail (California, U.S.), Cactus to Clouds Trail (California, U.S.), Zion Narrows (Utah, U.S.), and Bright Angel Trail, Grand Canyon (Arizona, U.S.).
Table of Contents
Welcome
1. Introduction
2. Summary of the Challenge
___
a. Requirements
___
b. Time
___
c. Budget
3. What to Expect
___
a. Trails & Navigation
___
b. Points of Interest
___
c. Weather
___
d. Camping
___
e. Water
___
f. Safety
___
g. Flora & Fauna
___
h. Other Conditions
4. Long Lead Items
___
a. Permits & Regulations
___
b. Hiking Buddy
___
c. Travel Arrangements
___
d. Accommodation
5. Planning & Preparation
___
a. Itinerary
___
b. Food
___
c. Training
6. Gear
___
a. Clothing
___
b. Hiking
___
c. Sleeping
___
d. Food & Water
___
e. Medical & Personal Care
___
f. Other Essentials
7. Personal Experience
___
a. Plan
___
b. Go
Appendices
___
A. Checklists
___
B. Food Suggestions
___
C. Elevation & Campsites
___
D. Trail Crossings
___
E. Side Trips
___
F. Naismuth's Rule
___
G. Links & References
___
H. Contact Information
___
I. List of Abbreviations
About the Author
Special Thanks
Disclaimer