Plan & Go | Trans-Catalina & Backbone Trails
All you need to know to complete two long-distance trails through Southern California's coastal Mediterranean climate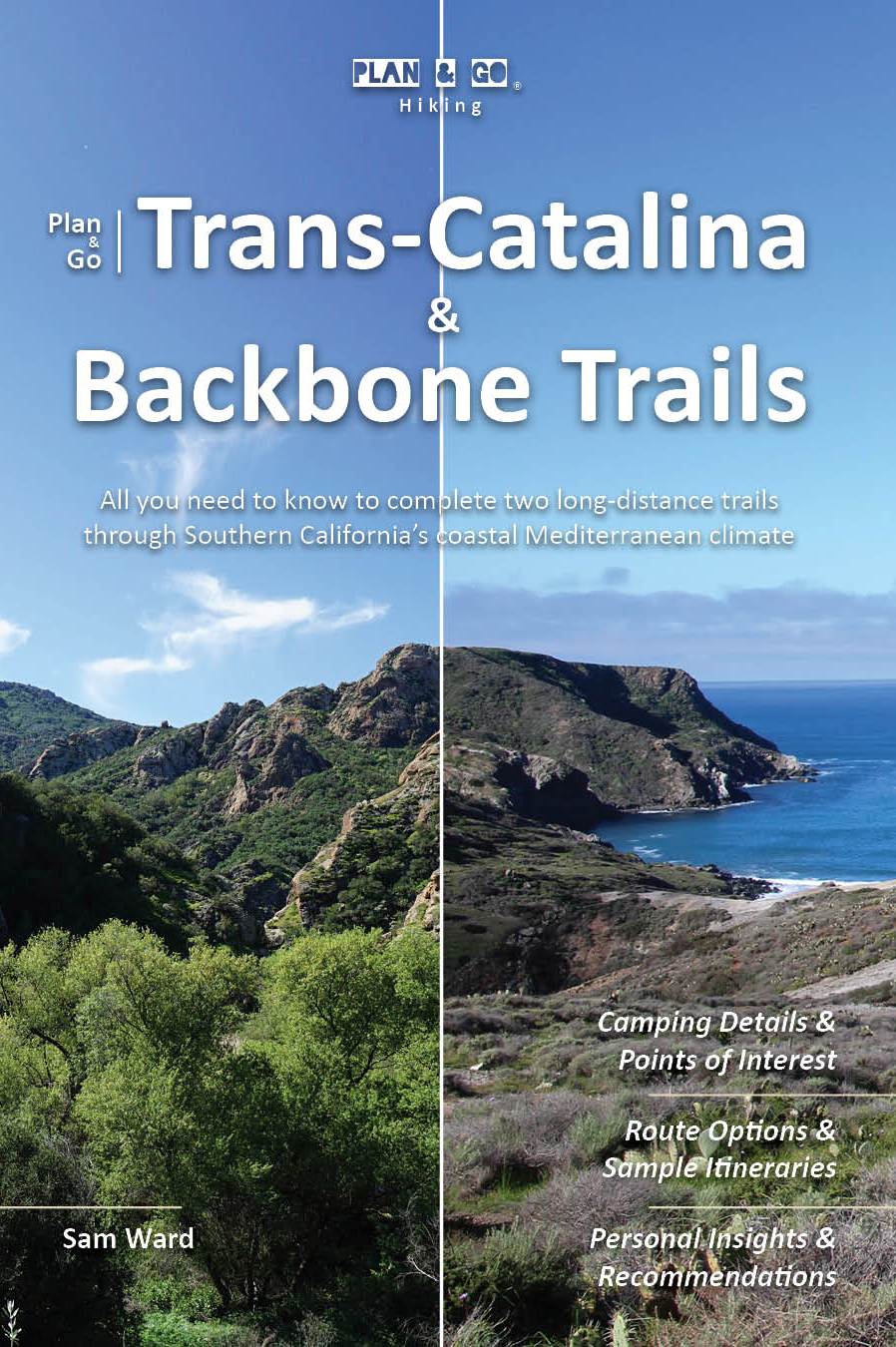 Author: Sam Ward
Publisher: Sandiburg Press
Series: Plan & Go Hiking
ISBN: 978-1-943126-08-8
Pages: 166
Retail price: $15.95
Buy on Amazon
Description
Plan & Go | Trans-Catalina & Backbone Trails is the definitive guide to hiking two of Southern California's most remarkable backcountry trails. In a clear and concise manner, the book illustrates the highlights and unique characteristics of both the Trans-Catalina Trail and the Backbone Trail. It provides details on all essential trip planning topics to save you time and effort with your own preparations. Supported by step-by-step instructions and first-hand recommendations, you will be well-equipped and feel more confident about leaving the metropolitan hustle and bustle behind to experience nature at its best.
The book provides answers to the following questions (and more):
When is the best time to go?
How many days should I spend?
What are my camping options?
What kind of gear works best?
How do I prepare for each trail?
Where to resupply food & water?
How do I get there and back?
In addition, Plan & Go | Trans-Catalina & Backbone Trails offers practical advice on athletic training, which food to pack and in what quantities, how to select appropriate gear, and various other essentials for each trail. The book further includes relevant overview maps of the trails and comprehensive campsite listings to help you create itineraries that best suits your personal preferences. The wealth of facts and figures is topped off with two candid and inspiring accounts of the author's back-to-back journeys across Santa Catalina Island and the Santa Monica Mountains.
About the Author
In addition to hiking the Trans-Catalina Trail and Backbone Trail twice each, Sam Ward has backpacked over 7,000 miles along the Appalachian Trail (2008), Pacific Crest Trail (2011), and Continental Divide Trail (2015), aka the Triple Crown, as well as many more as a weekend warrior. He works as an environmental engineer and lives in Los Angeles.
Table of Contents
Welcome
Introduction
1. Summary of the Challenge
___
a. Requirements
___
b. Time
___
c. Budget
2. What to Expect – Trans-Catalina Trail
___
a. Trails & Navigation
___
b. Points of Interest
___
c. Weather
___
d. Camping
___
e. Water
___
f. Flora & Fauna
___
g. Safety
___
h. Other Conditions
3. What to Expect – Trans-Catalina Trail
___
a. Trails & Navigation
___
b. Points of Interest
___
c. Weather
___
d. Camping
___
e. Water
___
f. Flora & Fauna
___
g. Safety
___
h. Other Conditions
4. Long Lead Items
___
a. Permits
___
b. Hiking Partner
___
c. Travel Arrangements
___
d. Accommodations
5. Planning & Preparation
___
a. Itinerary
___
b. Food
___
c. Resupply
___
d. Training
6. Gear
___
a. Clothing
___
b. Hiking
___
c. Sleep System
___
d. Food & Water
___
e. First Aid
___
f. Personal Care
___
g. Other Essentials
7. Personal Experience
___
a. Plan
___
b. Go
Appendices
___
A. Sample Itineraries
___
B. TCT Planning Tools
___
C. BBT Planning Tools
___
D. Mileage Data Tables
___
E. Checklists
___
F. Food Suggestions
___
G. TCT Trail Expansion Program
___
H. Contact Information
___
I. Links & References
___
J. List of Abbreviations
About the Author
Special Thanks
Disclaimer