Plan & Go | Pennine Way
All you need to know to complete Britain's first and finest long-distance trail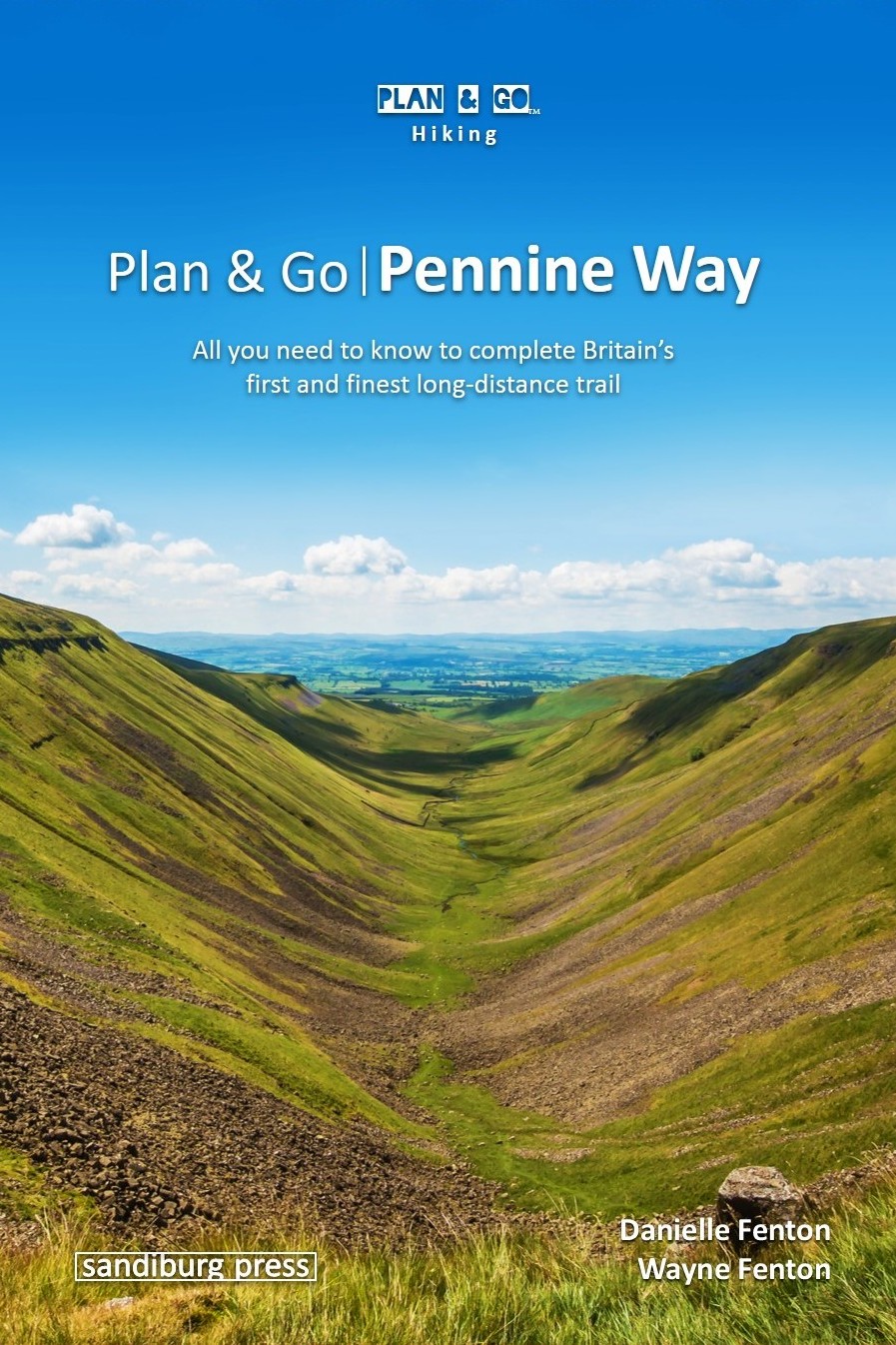 Authors: Danielle Fenton, Wayne Fenton
Publisher: Sandiburg Press
Series: Plan & Go Hiking
ISBN: 978-1-943126-04-0
Pages: 197
Retail price: $16.95
Buy on Amazon
Description
Plan & Go | Pennine Way is the complete guide to hiking one of Britain's best known and toughest trails. In a clear and concise manner, the book describes what to expect from the 268-mile journey along the 'backbone of England' and provides all the essential planning information to save you time and effort with your own preparations. Supported by step-by-step instructions and first-hand recommendations, you will be well-equipped and feel more confident about completing this memorable hiking adventure from Edale in the Peak District to the Scottish border town of Kirk Yetholm.
The book provides answers to the following questions (and more):
How do I prepare for the PW?
When is the best time to go?
How many days will it take me?
What are my lodging options?
How do I organize transportation?
Where can I resupply food & water?
What kind of gear works best?
How do I get there and back?
In addition, Plan & Go | Pennine Way offers practical advice on athletic training, which food to pack and in what quantities, how to select gear and which items work best, as well as various other essentials for the trail. The book further includes different budget options and sample hiking itineraries to help you create an itinerary that best suits your personal preferences. The wealth of facts and figures is completed by the entertaining and highly motivating account of the authors' own 24-day Pennine Way adventure.
About the Authors
Danielle & Wayne Fenton, both born in England during the 1970s, have been a couple for 18 years. Their passion for the great outdoors was ignited during their first career break in 2010, where they bought a pair of walking boots for the first time and hiked in various parts of South East Asia, China, New Zealand, and the USA. Since then, they have completed several thru-hikes around the world, including the 'W' trek in Torres del Paine, Chile, Colca Canyon in Peru, the John Muir Trail in the USA, and the West Highland Way in Scotland.
Table of Contents
Welcome
1. Introduction
2. Summary of the Challenge
___
a. Requirements
___
b. Time
___
c. Budget
3. What to Expect
___
a. Trails & Navigation
___
b. Points of Interest
___
c. Weather
___
d. Camping
___
e. Water
___
f. Safety
___
g. Flora & Fauna
___
h. Other Conditions
4. Long Lead Items
___
a. Permits
___
b. Hiking Buddy
___
c. Travel Arrangements
___
d. Accommodation
5. Planning & Preparation
___
a. Itinerary
___
b. Food
___
c. Resupply
___
d. Training
6. Gear
___
a. Clothing
___
b. Hiking
___
c. Sleeping
___
d. Food & Drinks
___
e. Medical & Personal Care
___
f. Other Essentials
7. Personal Experience
___
a. Plan
___
b. Go
Appendices
___
A. Checklists
___
B. Food Suggestions
___
C. Campsite, Bunkhouse & Hostel Listing
___
D. Distance Chart
___
E. Elevation Profiles
___
F. Links & References
___
G. List of Abbreviations
About the Authors
Special Thanks
Disclaimer