Lone Star Hiking Trail
Traversing Sam Houston National Forest in East Texas
---
Trail Details
| | |
| --- | --- |
| Location: | Texas, United States |
| Length: | 96+ miles (154+ km) |
| Type: | Point-to-Point |
| Duration: | 5-10 days |
| Difficulty: | Easy to Moderate |
| Elev. change: | 500 ft (152 m) |
| Highest point: | 400 ft (122 m) |
| Season: | October through April |
| Permits: | None |
---
Trail Summary
The Lone Star Hiking Trail is a 96.5-mile footpath in Texas, located about an hour north of Houston in the Sam Houston National Forest. With a cumulative length of 128 miles, including the main trail plus over 30 miles of additional loop and crossover trails, it is the longest continuously marked and maintained path in the Lone Star State. The main route connects the Western Terminus near Richards and the Eastern Terminus near Cleveland. The shaded and secluded trail is open year-round and known for its immense biodiversity. Its beautiful forest setting and rich wildlife invite outdoor enthusiasts of all ages and fitness levels, whether it is just for a day hike or a weeklong backpacking trip.
---
Recommended Planning Guide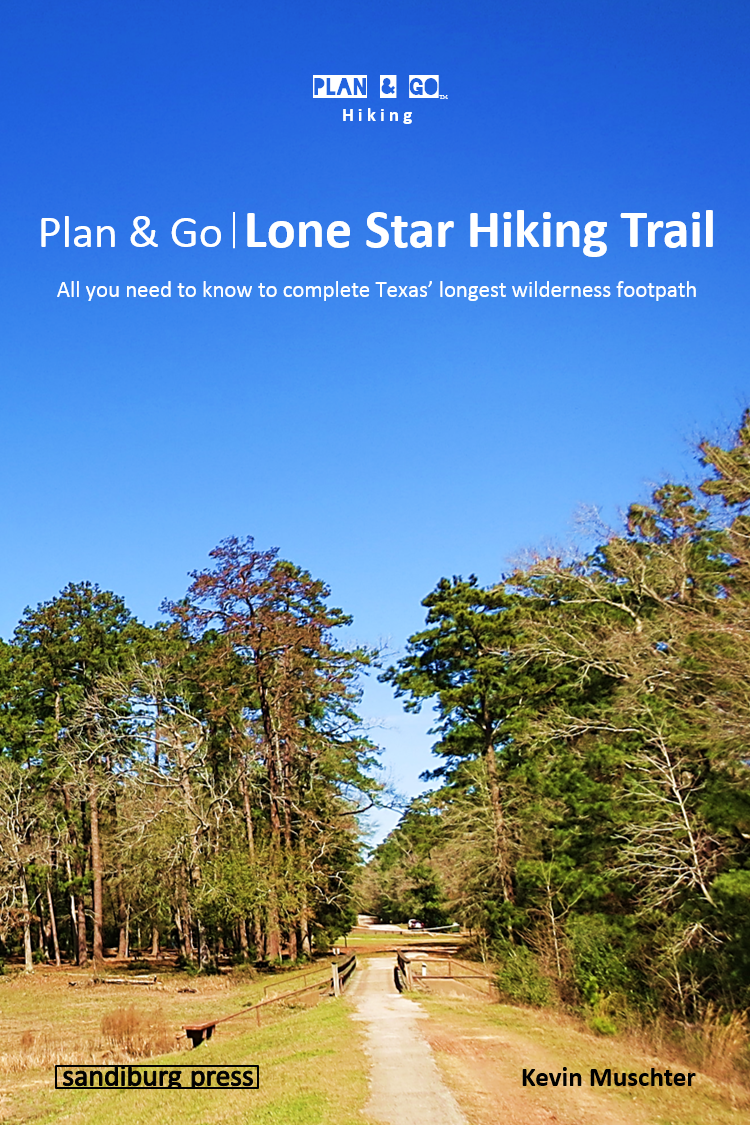 Plan & Go | Lone Star Hiking Trail is your complete guide to hiking Texas' longest wilderness footpath. The book clearly and concisely describes the highlights and unique characteristics of the 'LSHT' and provides all the essential planning information to facilitate your own preparations. Using the step-by-step instructions and recommendations, you'll be well-equipped and feel more confident about completing the 96+ miles, whether in sections or as a whole.
In addition, the guide offers practical advice on athletic training, food and resupply, gear selection, as well as various other essentials for the trail. Further included are a compact trail guide and example hiking itineraries to help you create an itinerary that best suits your expectations. The wealth of facts and figures is completed by the entertaining and motivating account of the author's own 6-day LSHT adventure.
Get the Book
---
Maps
Large-scale topographic maps are generally not required for navigating on the LSHT due to the clear and continuous marking of the route. The compact trail guide included in the recommended guidebook Plan & Go | Lone Star Hiking Trail contains detailed directions for all major waypoints and will help hikers navigate confidently even through areas where trail markers are omitted or missing. In addition, basic overview maps of the Sam Houston National Forest area can be downloaded free of charge from the U. S. Forest Service and Lone Star Hiking Trail Club websites.
---
Mobile Apps
Currently, there are no mobile apps available for the Lone Star Hiking Trail. However, the following website offers GPS-based LSHT section maps that can be downloaded and used in combination with a free mapping app that is also referenced on the website: http://www.lonestartrail.org/maprika.html
---
Helpful Links