High Sierra Trail
Giant Forest to Whitney Portal across the California Sierra Nevada
---
Trail Details
| | |
| --- | --- |
| Location: | California, United States |
| Length: | 72 miles (116 km) |
| Type: | Point-to-Point |
| Duration: | 4-8 days |
| Difficulty: | Moderate to Strenuous |
| Elev. change: | 29,350 ft (8,946 m) |
| Highest point: | Mount Whitney, 14,505 ft (4,421 m) |
| Season: | June to September |
| Permits: | Backcountry permit (reservation/walk-up) |
---
Trail Summary
The 72-mile High Sierra Trail (HST) has all the memory-making potential of a much longer hike, packaged into a job-friendly, one-week vacation. There is perhaps no better way to laterally cross the immense Sierra Nevada mountain range on foot. The journey begins amidst giant redwoods in Sequoia National Park and ends at Mt. Whitney, the highest peak in the contiguous United States. Along the route, you will be wowed by expansive river valleys, crystal clear lakes, sheer granite cliffs, and stunning alpine peaks.
---
Recommended Planning Guide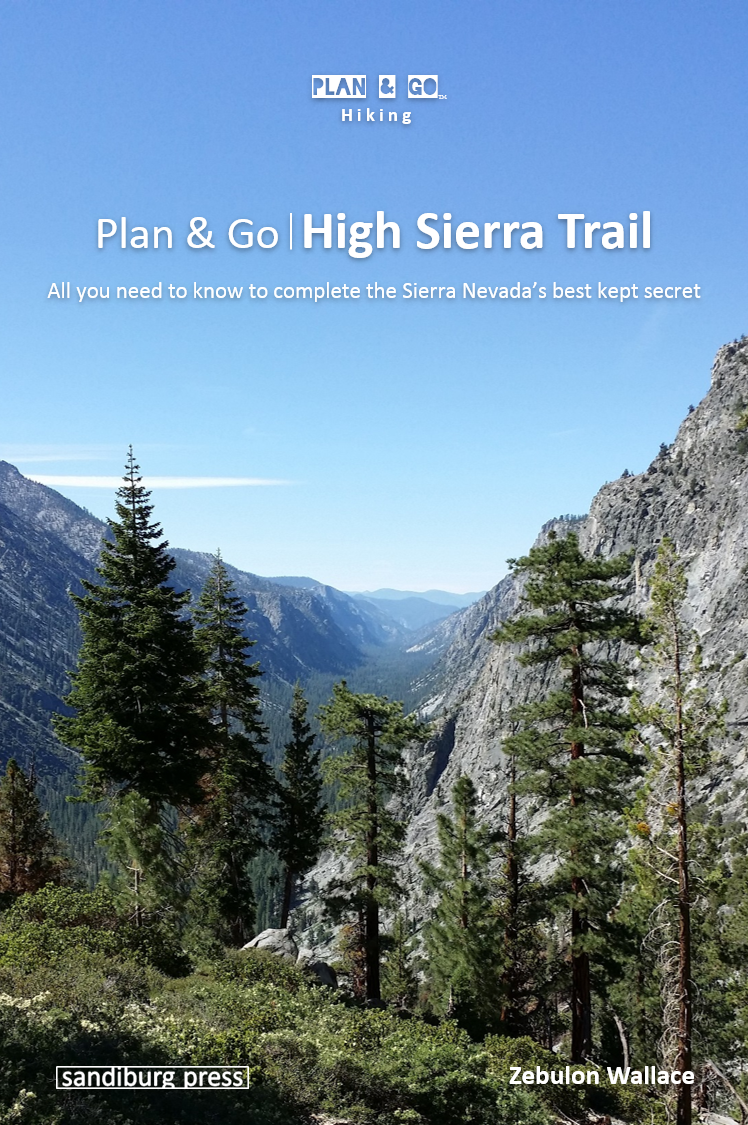 Plan & Go | High Sierra Trail is your complete guide to hiking the 72-mile route from the Giant Forest to Whitney Portal. The book clearly and concisely describes the highlights and unique characteristics of the 'HST' and provides all the essential planning information to facilitate your own preparations. Using the step-by-step instructions and recommendations, you'll be well-equipped and feel more confident about completing this memorable adventure.
In addition, this guide offers practical advice on athletic training, food preparation, gear selection, as well as various other essentials for the trail. The detailed elevation profile of the trail and comprehensive campsite listing will help you create an itinerary that best suits your preferences. The wealth of facts and figures is topped off by the entertaining and motivating account of the author's own 5-day journey.
Get the Book
---
Trail Map
Tom Harrison's Mt. Whitney High Country Map is a great companion for the HST hiker. Printed on waterproof and tear resistant material, this shaded relief topo map covers the entire course of the HST from Crescent Meadow to Whitney Portal. Included are: Pear Lake, Lodge Pole, Mineral King, Mt. Whitney, Kern Canyon, Ash Mountain, Whitney Portal, Little 5 Lakes, Bearpaw Meadow, Triple Divide Peak, and inserts for Cottonwood Lakes-Horseshoe Meadow Trailhead. This map is GPS compatible and features the complete UTM Grid.
Get the Map
---
Mobile Apps
Currently, there are no mobile apps available for the High Sierra Trail.
---
Helpful Links