Coast to Coast Walk
Across northern England from St Bees in Cumbria to the North Sea coast at Robin Hood's Bay
---
Trail Details
| | |
| --- | --- |
| Location: | England, United Kingdom |
| Length: | 192 miles (309 km) |
| Type: | Point-to-Point |
| Duration: | 10-18 days |
| Difficulty: | Moderate |
| Elev. change: | 5,120 ft (1,560 m) |
| Highest point: | Kidsty Pike, 2,560 ft (780 m) |
| Season: | June through September |
| Permits: | None |
---
Trail Summary
The 192-mile (309km) Coast to Coast Walk (C2C) was originally devised in the early 1970s by famous British fell walker, author, and illustrator Alfred Wainwright. Walking west to east across northern England from the Cumbrian coast to the North Sea, the route takes you through three of England's striking national parks – the Lake District, the Yorkshire Dales, and the North Yorkshire Moors. These areas retain a quintessential English charm with their rolling hills and lush green countryside, not forgetting the traditional market towns, quaint tea rooms, legendary public houses, and famous fish and chip shops that you will come across. Each area has its own unique character. The C2C is not the longest walk in England but has certainly become the most popular long-distance trail in the country.
---
Recommended Guidebook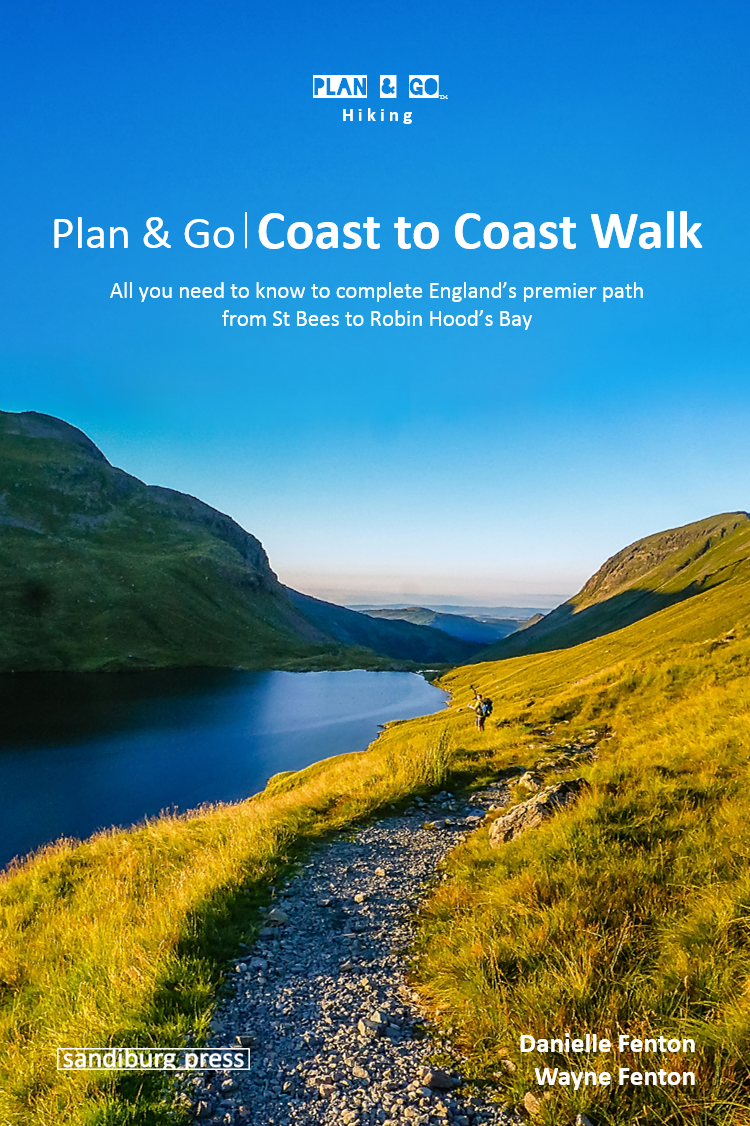 Plan & Go | Coast to Coast Walk is the ultimate guide to hiking England's iconic 192-mile route from the Cumbrian coast to the North Sea. In a clear and concise manner, the book describes what to expect from a journey on the 'C2C' and provides all the essential planning information to save you time and effort with your own preparations.
In addition, the guide offers practical advice on athletic training, which food to pack and in what quantities, how to select gear and which items work best, as well as various other essentials for the trail. Further included are different budget options and example hiking itineraries to help you create an itinerary that best suits your personal preferences as well as an entertaining and highly motivating account of the authors' own 19-day Coast to Coast adventure.
Get the Book
---
Maps
These two Harvey Coast to Coast Maps cover the entire route from St Bees to Keld and from Keld to Robin Hood's Bay respectively. The maps are detailed, with the route clearly marked. They also contain general information and useful telephone numbers to assist with planning. Both maps are printed on 100% waterproof and practically indestructible paper.
Get the West Map
Get the East Map
---
Mobile Apps
Currently, there are no mobile apps available for the Coast to Coast Walk. However, the following website offers GPS-based route, point-of-interest, and waypoint information for download that can be imported into digital mapping software: http://www.walkingplaces.co.uk/downloads/
---
Helpful Links