Plan & Go | John Muir Trail
All you need to know to complete one of the world's greatest trails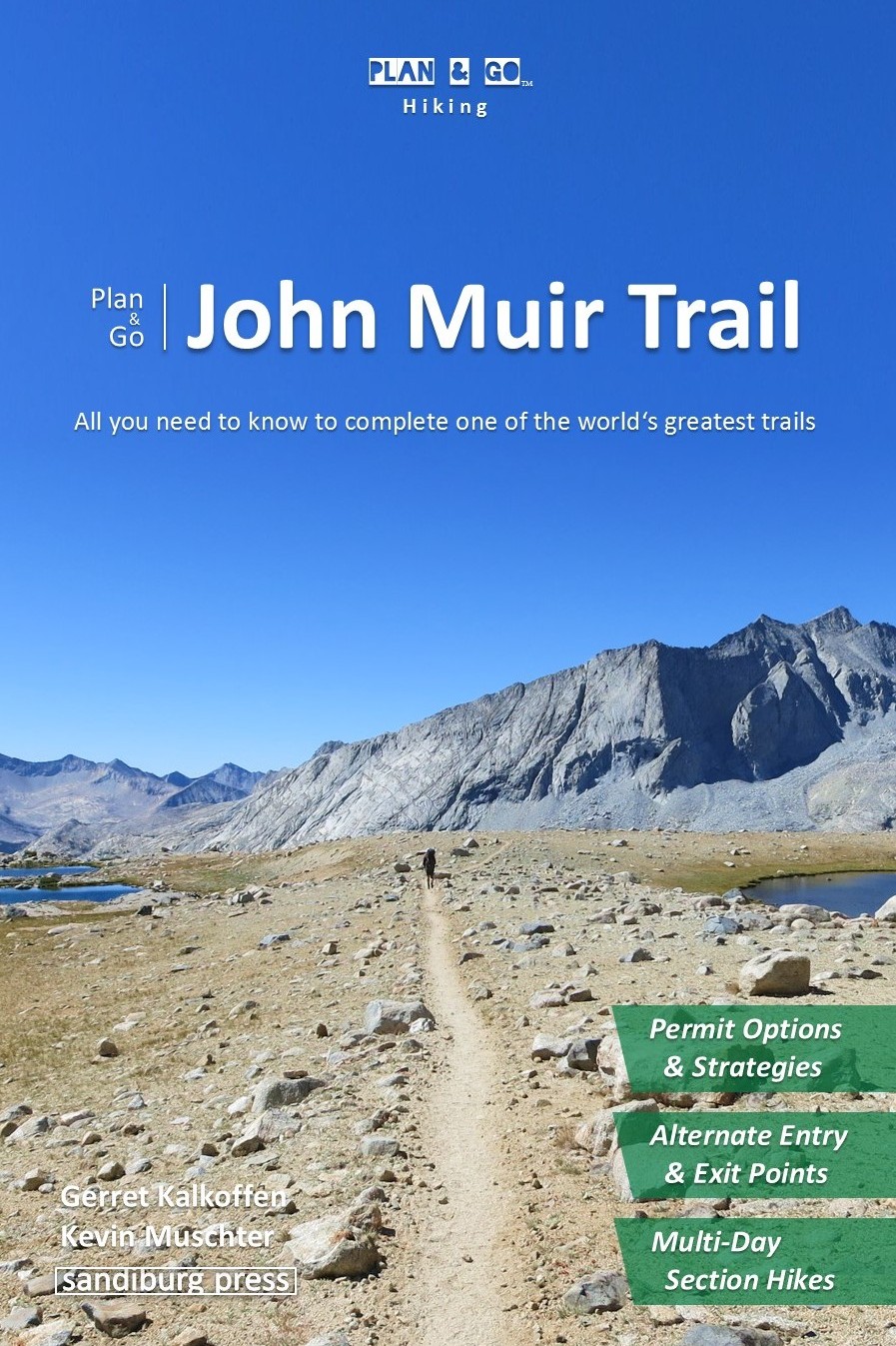 Authors: Gerret Kalkoffen, Kevin Muschter
Publisher: Sandiburg Press
Series: Plan & Go Hiking
ISBN: 978-1-943126-05-7
Pages: 192
Retail price: $15.95
Buy on Amazon
Description
In response to the ever-increasing popularity of the John Muir Trail, this fully-updated 2nd edition offers a more comprehensive overview of available permit options and reservation procedures as well as alternate trail access and exit points. It also includes detailed descriptions of popular JMT section hikes that can be completed in a week or less.
Plan & Go | John Muir Trail is the ultimate guide to hiking America's most renowned long-distance trek between Yosemite Valley and Mt. Whitney. In a clear and concise manner, the book illustrates the highlights and unique characteristics of the JMT and provides details on all essential planning topics to save you time and effort with your own preparations. Supported by step-by-step instructions and first-hand recommendations, you will be well-equipped and feel more confident about completing this memorable adventure in the California Sierra Nevada.
The book provides answers to the following questions (and more):
How do I prepare for the JMT?
When is the best time to go?
How many days will it take me?
What is the best permit strategy?
Where can I send my resupply?
What kind of gear works best?
How do I get there and back?
In addition, Plan & Go | John Muir Trail offers practical advice on athletic training, which food to pack and in what quantities, how to select appropriate gear, and various other essentials for the trail. The book further includes detailed elevation profiles of the trail along with an overview of popular multi-day section hikes to help you create an itinerary that best suits your personal preferences. The wealth of facts and figures is topped off with the entertaining and motivating account of the author's own 15-day JMT trek amidst the breathtakingly beautiful High Sierra peaks.
About the Author
Gerret Kalkoffen was born 1981 in Hamburg, Germany. Since before he can remember, his father took him along on hikes and sparked his love of the outdoors. Gerret has since enjoyed hiking trips in various parts of the Alps, the Philippines, China, New Zealand, Canada, and the U.S. With his background in business and engineering, Gerret is always interested in improved gear and technical solutions. Besides the peace he feels when in nature, he enjoys the physical challenge the mountains pose.
Kevin Muschter is a seasoned backpacker who was first introduced to the fascinating world of hiking by his parents during family vacations in the beautiful Czech Giant Mountains and Saxon Elbe Sandstone Mountains in Eastern Europe. Inspired by those early adventures, Kevin went on to travel and explore Europe's largest mountain range, the Alps, on foot and on skis throughout the years. In 2011, he moved to San Diego, CA, which quickly became his gateway to United States' vast and varied backcountry. To Kevin, hiking is a great way to escape the comfort zone and reconnect with nature.
Table of Contents
Welcome
1. Introduction
2. Summary of the Challenge
___
a. Requirements
___
b. Time
___
c. Budget
3. What to Expect
___
a. Trails & Navigation
___
b. Points of Interest
___
c. Weather
___
d. Camping
___
e. Water
___
f. Flora & Fauna
___
g. Safety
___
h. Other Conditions
4. Long Lead Items
___
a. Permits
___
b. Hiking Buddy
___
c. Travel Arrangements
___
d. Accommodation
5. Planning & Preparation
___
a. Itinerary
___
b. Food
___
c. Resupply
___
d. Training
6. Gear
___
a. Clothing
___
b. Hiking
___
c. Sleeping
___
d. Food & Water
___
e. Medical & Personal Care
___
f. Miscellaneous
7. Personal Experience
___
a. Plan
___
b. Go
Appendices
___
A. Trail Overview Map
___
B. Elevation Profiles
___
C. Campsite Locations
___
D. Section Hikes
___
E. Side Trips
___
F. Checklists
___
G. Food Suggestions
___
H. Contact Information
___
I. Links & References
___
J. List of Abbreviations
About the Authors
Special Thanks
Disclaimer