Plan & Go | Wonderland Trail
All you need to know to complete the classic circuit of Mount Rainier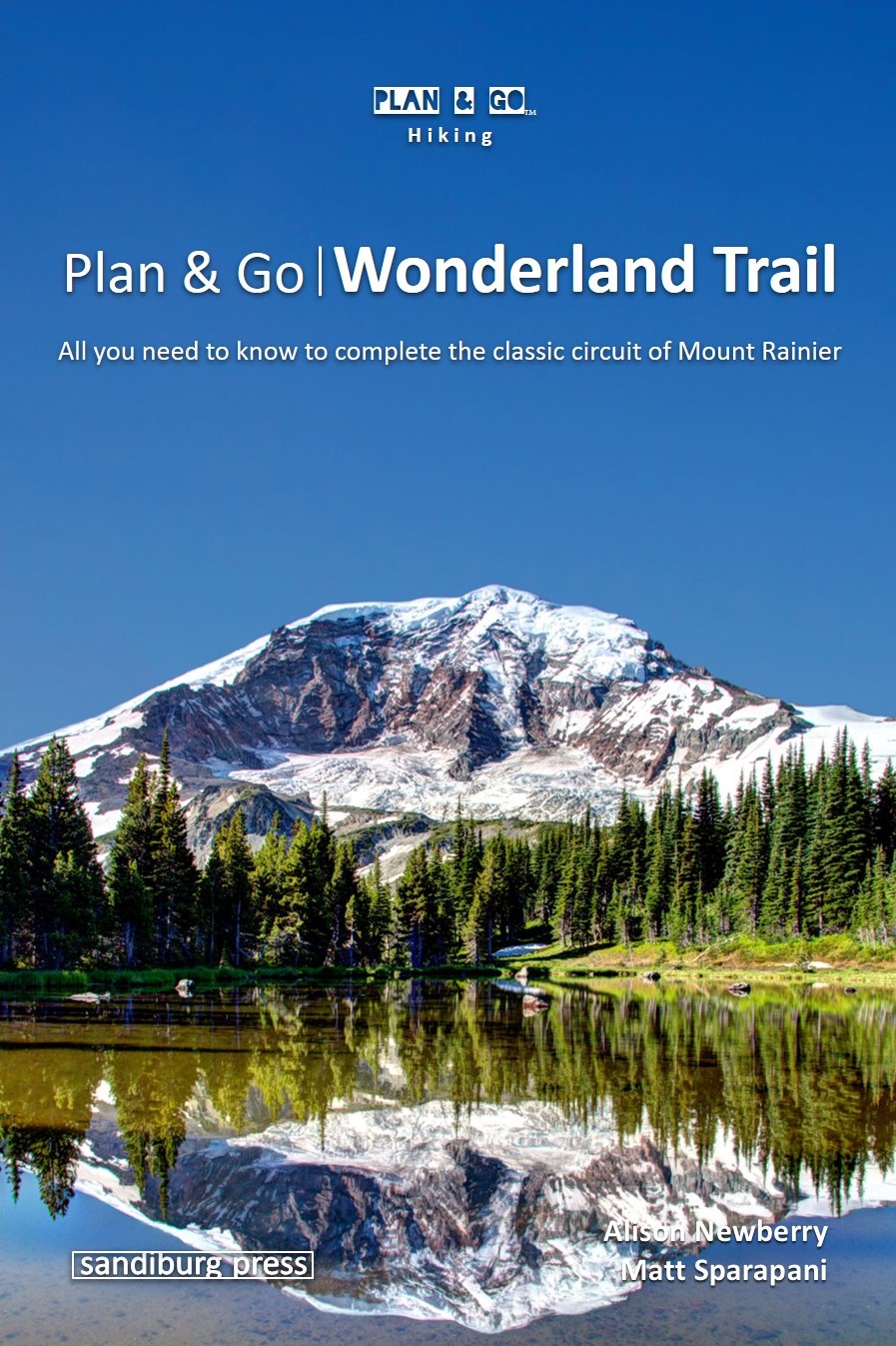 Authors: Alison Newberry, Matt Sparapani
Publisher: Sandiburg Press
Series: Plan & Go Hiking
ISBN: 978-1-943-12603-3
Pages: 178
Retail price: $15.95
Buy on Amazon
Description
Plan & Go | Wonderland Trail is the up-to-date, comprehensive guide to hiking the famed 93-mile loop around Mount Rainier, the highest mountain in Washington State. Whether you intend to complete the entire circuit or only want to explore sections of it, you will be awed by stunning alpine scenery and rich biodiversity, all with the mighty 14,410-foot glaciated peak as the backdrop. In a clear and concise manner, the book describes the highlights and unique characteristics of the 'WT', providing a complete picture of the challenge at hand. It also covers all the essential planning information to save you time and effort with your own preparations. Supported by step-by-step instructions and first-hand recommendations, you will be well-equipped and feel more confident about completing this incredible trekking adventure in the beautiful Pacific Northwest.
The book provides answers to the following questions (and more):
How do I prepare for the WT?
When is the best time to go?
How many days will it take me?
What are my camping options?
How do I obtain a permit?
What kind of gear works best?
How do I get there and back?
In addition, Plan & Go | Wonderland Trail offers practical advice on athletic training, which food to pack and in what quantities, how to select appropriate gear, and various other essentials for the trail. The book further includes detailed elevation profiles of the trail along with sample hiking itineraries to help you create a route that best suits your personal preferences. The wealth of facts and figures is topped off with the entertaining and motivating account of the authors' own 12-day Wonderland adventure.
About the Authors
Matt Sparapani & Alison Newberry discovered their enthusiasm for travel while living in Italy after college. As newlyweds they developed a mutual love of nature photography and have since combined this passion with international travel and a variety of outdoor activities. From trekking in Nepal to safari in Africa, from backpacking in Patagonia to canoeing in the Boundary Waters, the camera has served as a constant reminder to pause and savor the subtle beauty of nature.
Alison and Matt began their backpacking lives in Chile with a thru-hike of the "W" in Patagonia's Torres del Paine National Park. Since then, their backpacking and trekking adventures have included: Mount Fitz Roy in Argentina, the Annapurna Circuit in Nepal, the Inca Trail to Machu Picchu, the summits of Meru and Kilimanjaro in Tanzania, the Four-Pass Loop in Colorado, the Laugavegur Trail in Iceland, the Himalayas in northern India, the Cordillera Range in Peru, Borneo, and Guatemala, and the Wonderland Trail in Washington, which remains one of their favorite trekking experiences to date. While not on the road, Matt and Alison reside in Chicago, Illinois.
Table of Contents
Welcome
1. Introduction
2. Summary of the Challenge
___
a. Requirements
___
b. Time
___
c. Budget
3. What to Expect
___
a. Trails & Navigation
___
b. Points of Interest
___
c. Weather
___
d. Camping
___
e. Water
___
f. Flora & Fauna
___
g. Safety
___
h. Other Conditions
4. Long Lead Items
___
a. Permits & Regulations
___
b. Hiking Buddy
___
c. Travel Arrangements
___
d. Trail Shelters
5. Planning & Preparation
___
a. Itinerary
___
b. Food
___
c. Resupply
___
d. Training
6. Gear
___
a. Clothing
___
b. Hiking
___
c. Sleeping
___
d. Food & Water
___
e. Medical & Personal Care
___
f. Other Essentials
7. Personal Experience
___
a. Plan
___
b. Go
Appendices
___
A. Elevation Profiles
___
B. Consolidated Trail Overview
___
C. Camp-to-Camp Distances
___
D. Sample Itineraries
___
E. Side Trips
___
F. Checklists
___
G. Food Suggestions
___
H. Contact Information
___
I. Links & References
___
J. List of Abbreviations
About the Authors
Special Thanks
Disclaimer